.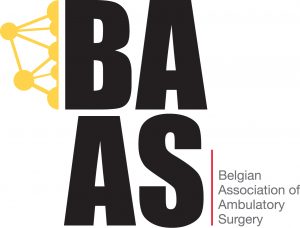 Belgian Association of
Ambulatory Surgery
.
The Belgian meeting on September 24th 2021 was an hybrid online/live "Refresher Course"
this was the program 
.
to visit our site, please select your language: Nederlands – Français..
.
The 14th International Congress will be organized in 2022 in the beautyful city of Bruges, Belgium
Local organizers are the BAAS (Belgian association) and the NVDK (Dutch association)
endorsed by the Royal Belgian Society for Surgery

Go to the website of the congress
.
.
here you can still find the lectures of the 13th Belgian congress February 15th 2019
We are pleased to inform our visitors that our site does not use cookies.
In accordance to the GDPR-regulation, we confirm that your registration data are used exclusively for the management and follow-up of the congress, and are not shared with third parties.
parties.