IAAS congress Bruges 2022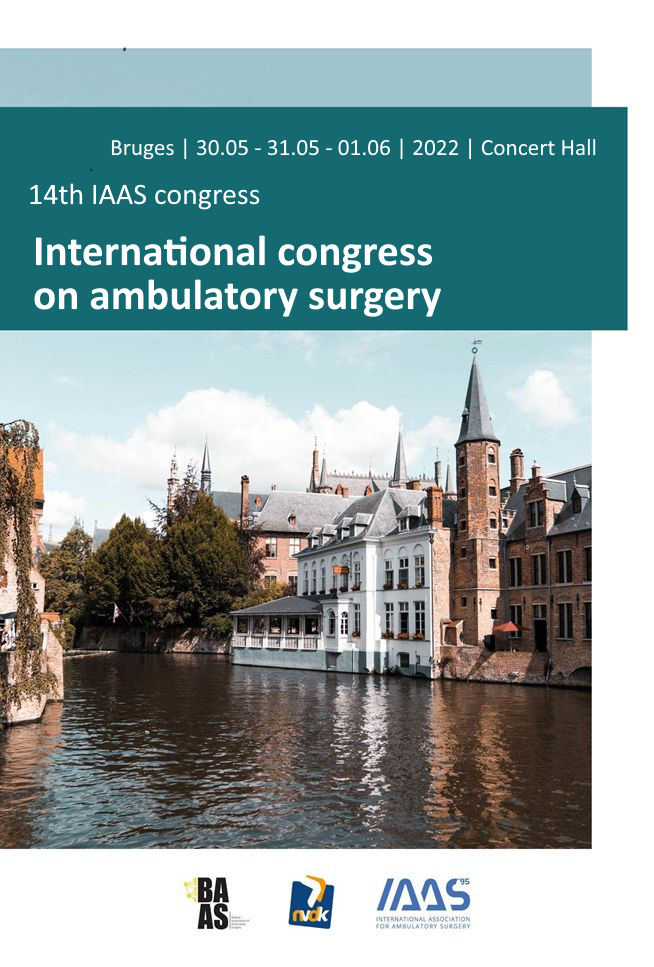 Committees

.

Honorary Committee

Luc Van Outryve
Jan Eshuis

International organising committee

Presidents
Douglas McWhinnie
Xavier Falières
Marc Coppens

Members
Arnaldo Valedon
Gamal-Edin Mohamed
Mark Skues
Carlos Magaelhães
Stefan De Hert

Local organising committee

Presidents
Xavier Falières
Marc Coppens

Members
Luc Van Outryve
Paul Vercruysse
Els Van Caelenberg
Jan Eshuis
Gilbert Bejani
Nicole van der Lans
Annette Verdouw
Alexandra Schyns-van den Berghe

International scientific committee

Presidents
Ian Jackson
Xavier Falières
Marc Coppens

Members
Vicente Viera
Corinne Vons
Louis Hidalgo
Hanne Føns
Mark Skues
Zhengzhong Zhang

Local scientific committee

Presidents
Marc Coppens
Xavier falières

Members
An Teunkens
Björn Stessel
Luc Van Outryve
Els Van Caelenberg
Jan Eshuis
Anna Panacewicz
Eric Belt
Central theme of the meeting:
I'm taking you home tonight
Ambulatory surgery has experienced tremendous growth during recent years. We continue to do more complex procedures and treat more complex patients, some of  whom are vulnerable such as the elderly, children, children with special needs, mentally disabled and many more. Thanks to innovation in surgery, anaesthesia and nursing but above all thanks to interdisciplinary teamwork we can guarantee safe home discharge for everybody all over the world!!!
Preliminary program
Opening ceremony –  Monday, concert hall
Welcome by
Douglas McWhinnie – president of the IAAS
Marc Coppens – president of the BAAS
Xavier Falières – president of the NVDK
Nicoll lecture by dr Jan Eshuis
Dr Jan Eshuis worked in the University Hospital of Amsterdam as anaesthesiologist and was one of the founders of Ambulatory Surgery in the Netherlands. He led the development of a highly regarded academic day surgery unit highly dedicated. Passionately he trained and taught many health care workers in ambulatory care throughout the world. When he retired he received a royal award in recognition of his services both nationally and internationally.
Introduction by dr L Van Outryve
Confirmed speakers:
Ambulatory Surgery as solution for back log in surgery after COVID-19.
Douglas Mc Whinnie, president of IAAS
Role of nursing in Ambulatory Surgery
Karen McMillan, president of  Australian Day Surgery Nurses Association ADSNA
Making it happen throughout the world
Carlos Magalhães, president  Portuguese Ambulatory Surgery Association (APCA) and President Elect  of the International association of ambulatory surgery (IAAS)
Novel drugs in ambulatory surgery
Michel Struys, Anaesthesiologist, pharmacologist, lead of the department of Anaesthesiology at the University of Groningen, professor at Ghent University
Nasal Surgery in Sleep Apnea – a biomechanical view of the upper airways.
Mads Moxness, president Norwegian Association Ambulatory Surgery
Pushing the envelope in ambulatory urology surgery.
Thomas Tailly, European Association Urology, section Uro-Technology, Ghent University Hospital
Mark Skues, anaesthesiologist and Editor in chief of the Ambulatory Surgery Journal
Madhu Ahuja, anaesthesiologist and Editor in chief of the Ambulatory Surgery Journal
Melissa De Regge, Department of Marketing Innovation and Organisation, Center for Service Intelligence, Ghent University, Belgium
Els Van Caelenberg, Head Nurse Ambulatory Surgery Unit, Department of Anaesthesia and Perioperative Medicine, University Hospital Ghent
An Teunkens, Head of the ambulatory surgery unit, Leuven University, Belgium
Björn Stessel, Head of the ambulatory surgery unit, Jessa Hospital, Hasselt, Belgium
Luc De Baerdemaeker, president of ESPCOP European Society for perioperative care of the obese patient
.
Topics on:
Crisis in day care unit
Medical emergencies in the Ambulatory Surgery Unit
Gynaecology in ambulatory surgery
Orthopaedics
Sedation
General surgery
Preoperative assessment
Finances of day surgery
Nursing
Management of an Ambulatory Surgery Unit
.
Workshops on:
Gastric Ultrasound
Airway
Locoregional anaesthesia
Free paper session
on different topics in Ambulatory Surgery
On Tuesday NVDK and BAAS join forces to hold their national conferences